Serving Calgary, AB & Surrounding Areas
Canine Bed Bug Inspection
Canine Bed Bugs Inspection in Calgary, AB & Surrounding Areas
As the scourge of bed bugs sweeps the nation, people are increasingly looking for alternative methods to snuff out the bed bug threat. At Can-Ex Pest Control Inc., we offer the latest methods for residential and commercial clients in Calgary, AB & Surrounding Areas: canine bed bug inspection.
Meet Vega: Canine Bed Bug Inspection Expert
Vega is a 2 ½ year old rat terrier mix who has been working for a year and a half at Florida Canine Academy with Master trainer Bill Whitstine doing bed bug scent detection. I've recently returned with her approximately 1 month ago and we've been working ever since. She has perfect health and is 96%% accurate compared to humans being 34%% accurate at detecting bed bugs. She can detect bed bugs 360' degrees 12 ft up and down, trained to detect and signal on live and eggs only. Having a bed bug scent detection dog can guarantee Canex Pest Control can bring your property to a 0%% bed bug population!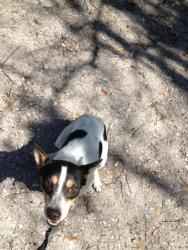 Dogs are amazing creatures, and with the right training and discipline, they can be taught to do tasks people simply aren't capable of. Canine bed bug detection is a new part of this age-old trend. Our canine bed bug inspection team features savvy, wily dogs and dedicated pest control professionals. Once our dogs are able to sniff out the problem, their human counterparts can take the appropriate steps to target unwanted bed bugs. At Can-Ex Pest Control Inc., knowledge starts with our furry friends. So if other methods of beg bud removal have failed, turn to us to solve the problem once and for all. Call today to schedule an appointment for canine bed bug inspection.